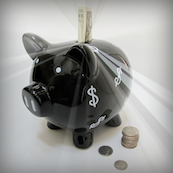 "People have told us that one of the attractions for moving to The Heritage was the availability of Super Noggin." Chris R., Executive Director, The Heritage of Green Hills, Pennsylvania.
"We didn't even get to advertise the class before it filled up." Sheery W., University of Arkansas Medical Science Center.
Everyone in the healthcare industry knows they need to be ready as the first wave of the Baby Boom Generation began retiring in 2011. Over the next 18 years, this demographic tidal wave will reach the shores of retirement as 10,000 people turn 65 every day. Add to that the fact that people over 85 are now the fastest-growing segment of the population, and the result is that by 2050, the number of Americans 85 years and older will quadruple.
Keeping people healthy will mitigate costs -- in human suffering, in caregiver burdens, and in dollars spent. To use just one disease as an example, total healthcare costs are more than three times higher for people with Alzheimer's Disease and other dementias than for other people age 65 and older, according to the 2010 Alzheimer's Disease Facts and Figures (page 34), published by the Alzheimer's Association.
Average per Person Payments for Healthcare and Long-Term Care Services, Medicare Beneficiaries Aged 65 and Older, with and without Alzheimer's Disease or Other Dementia, 2004 Medicare Current Beneficiary Survey and the source: 2010 Alzheimer's Disease Facts and Figures, page 34, published by the Alzheimer's Association.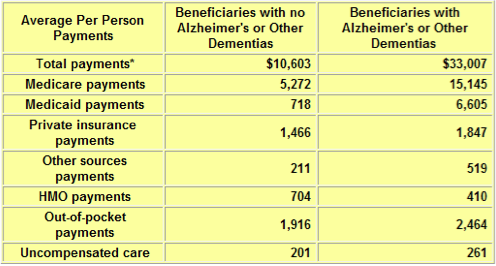 According the Facts and Figures report, in 2006:
Medicare beneficiaries with diabetes plus Alzheimer's or another dementia had 64 percent more hospital stays than those with diabetes and no Alzheimer's, and their average per person Medicare costs were $20,655 compared to $12,979 for beneficiaries with diabetes but no Alzheimer's or dementia.
Medicare beneficiaries with coronary heart disease and Alzheimer's disease or another dementia had 42 percent more hospital stays than those with coronary heart disease and no Alzheimer's or dementia, and their average per person Medicare costs were $20,780 compared to $14,640 for beneficiaries with coronary heart disease but no Alzheimer's or dementia.
With family members providing care at home for about 70 percent of people with Alzheimer's disease, the ripple effects of the disease can be felt throughout the entire family. According to Facts and Figures, in 2008, nearly 10 million Alzheimer caregivers in the U.S. provided 8.5 billion hours of unpaid care valued at $94 billion. In addition to the unpaid care families contribute, the report also reveals that Alzheimer's creates high out-of-pocket health and long-term care expenses for families.
Out-of-pocket costs that are not covered by Medicare, Medicaid or other sources of insurance are 28 percent higher for Medicare beneficiaries with Alzheimer's than those without. Individuals with Alzheimer's and other dementia living in nursing homes or assisted living facilities incurred the highest out-of-pocket costs – an average of $16,689 a year.
Growing prevalence of Alzheimer's Disease and dementia
There are 5.3 million Americans living with the disease and every 70 seconds someone in America develops Alzheimer's Disease. By mid-century someone will develop Alzheimer's every 33 seconds. By 2050 there will be nearly a million new cases per year.
Alzheimer's is the sixth leading cause of death in the country, surpassing diabetes; it is the fifth leading cause of death among individuals 65 and older.
From 2000 to 2006, while deaths from other major diseases dropped –

> heart disease (-11.5 percent),
> breast cancer (-.6 percent),
> prostate cancer (-14.3 percent) and
> stroke (-18.1 percent) –

deaths from Alzheimer's disease rose 47.1 percent.
Some benefits of cognitive fitness training are measurable. Controlled clinical trials, some as short as just a few weeks, have shown improvement in subjects who embark on a program of brain fitness and healthy lifestyle choices. Longitudinal studies such as the Religious Orders Study show an association between intellectually stimulating activities and a reduced rate of cognitive decline.
The renewed hope and sense of empowerment felt by people who learn that it is possible to grow new brain cells (not just lose them!) and to strengthen connections between existing brain cells can't be measured – but it can be felt!
keeps people independent longer
reduces need for direct-care workers
contributes to satisfaction and engagement of retirees
Financial ROI
Seeking new ways to reduce direct and indirect health care costs, employers and insurance companies are now looking to brain fitness as a key component to fighting rising health care costs. Some insurance companies like Penn Treaty American are already reporting a reduction in claims after offering brain fitness exercises to their long-term-care insurance customers. Providing your members with important brain fitness knowledge enables them to live healthier, more independent lives.
The tools Super Noggin uses are evidence-based; they enhance cognitive abilities, reduce insurance claims, and improve lives:
(source: The business case for wellness programs in retirement communities and seniors housing, a white paper from the International Council on Active Aging).