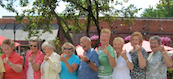 "We are getting great feedback from our participants!!! I love leading this program!!!" Todd P., Health & Wellness Coordinator, Little Rock, AR
Super Noggin is a fun, energizing program that helps people take control of their brain fitness by combining a unique blend of instruction, motivation, and activities around the theme of brain-healthy living. Providers host the program at their facility for adult participants of all ages, including those with normal aging memory problems ("senior moments").

If your organization becomes a Super Noggin provider, we
train you and your staff to teach a series of classes on brain-healthy behaviors
provide resources and agendas for follow-on brain fitness activity meetings
support your clients with workbooks to guide them through a year's worth of individual brain fitness activities and track their progress
We structure the program to make it easy for you and effective for your clients. Participants LEARN about lifestyle choices affecting cognitive health, PRACTICE brain-healthy habits and mentally-stimulating activities individually and in groups, and TRACK their progress as they move through a year's worth of stimulating – and entertaining – activities.
Why Super Noggin?
Unlike computer-based brain fitness programs, Super Noggin is socially-based. Unlike other community-based programs, Super Noggin is comprehensive. We know that replacing Bingo with Brain Teasers isn't enough, so we've provided a complete package of brain-healthy information and unique group-based activities.
Benefits of Super Noggin for Your Organization
The Super Noggin program is an excellent outreach and marketing tool. This program is being offered at senior centers, retirement communities, fitness centers, and other locations with the following results:
It has attracted new members or clients
It has special appeal to baby boomers looking for anti-Alzheimer's information
Participants are so engaged they repeat the program
It has great word-of-mouth publicity
Activity planning time is cut significantly
Centers have had to add extra sessions
It provides participants with a comprehensive lifestyle program to keep their minds sharp and their attitudes positive
To find out how to bring Super Noggin to your community, click here.