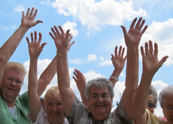 "Just have to let you know what a stir you caused... Residents are still talking about what a wonderful experience they had... I heard lots of laughter, which is the best sound ever. Just wanted to make sure you know how you changed lives." Sharon G., Director of Assisted Living and Wellness, Fort Myers, FL.
Flex those mental muscles!

Novelty.
That's it in a nutshell. Super Noggin offers so many different activities to do and interesting things to learn that participants look forward to each session.

They discover stimulating information, engage in group activities, make new friends, and track their progress as they enjoy their way through the year-long Super Noggin cognitive fitness program.

Self improvement can make people feel better physically and emotionally, so there is a positive feedback effect to taking charge of one's health. Renewed hope and a sense of empowerment are common reactions of people who learn that are things they can DO to delay or prevent mental decline as they age – anyone can take steps to strengthen connections between brain cells and even grow new ones! Super Noggin is based on the latest scientific research – we show you the way to lead your clients to better brain health.

Come join the Super Noggin team and change lives!