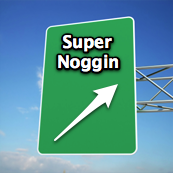 "We received 20 phone calls in the first two hours after the local paper came out with an article about our offering Super Noggin." Sherri N., Director, Senior Activity and Wellness Center, Fayetteville, Arkansas
"The training was very interesting, one of the best I've ever attended. I feel like I've taken something away with me for life." Eva H., Big Flat, Arkansas
Begin the brain-changing experience!
Providers can be any organization that wants to offer a comprehensive brain fitness program to their community, clients, or employees.  Super Noggin is led by Certified Super Noggin Instructors who are usually staff of the provider organization.
An independent instructor option is available for those who want to start their own Super Noggin business or who just want to take the training to begin their own brain fitness journey.   
Implementing the Super Noggin Program is Easy
READY: Purchase a year-long site license (renewable)
SET: Schedule a Super Noggin training at your location
GO: Announce the program, set up the schedule, and fill the seats
Click on the appropriate category below for detailed information on becoming a provider of the Super Noggin program.


Become a Super Noggin Provider
Super Noggin was created by LEAF Ltd., a private foundation and 501(c)3 nonprofit organization dedicated to the promotion of cognitive wellness.